Founders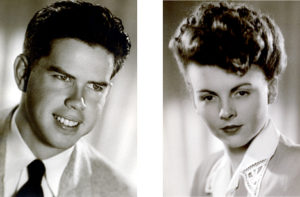 In 1968, Gene and Gloria Ackerley opened Ackerley Advertising in Tucson, Arizona.  In a one room office in the Broadway Terrace building at 4625 E Broadway the advertising agency began working for a select group of clients in the Tucson area with radio and television advertising campaigns.  With Gene's distinctive voice talent the client list quickly grew to include both small and large businesses advertising in local and regional markets.  Some of the notable agency clients in those early days of operation included: Blue Luster Carpet Cleaners, Phonemate, Levy's Department Store, Bullard's Hardware, Montgomery Ward, El Con Shopping Center, Korby's Department Store, El Rancho Center, Niles Television, Arizona Maintenance, and University Jewelers.
Under Gene and Gloria's guidance the advertising agency helped numerous charitable and community organizations with public relations and marketing. One of the most distinguished organizations was S.T.E.M. of Arizona, the award winning, and statewide anti-shoplifting public service program with Gene serving as the Executive Director.
In 1982 Gene was named the Executive Director of the El Con Merchants' Association where under his guidance the regional mall became one of the most successful in the world with national businesses including both Montgomery Ward and Radio Shack reporting their El Con Mall location as top sellers in their organization.  Gene envisioned the common area of El Con Mall as "the new town square," and with the leitmotif, "El Con Mall, the place to be for you and your family," the mall became a community gathering place and an engine of economic success.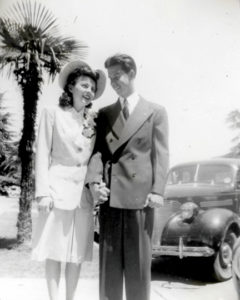 Gene and Gloria were both born in Needles, California and had seven children together, five of whom worked at the advertising agency. Gene graduated from USC and worked as on-air talent and manager of radio stations in California, Idaho, Nebraska and Arizona. Gene was manager of KCUB, KTAN and KCEE radio stations in Tucson before opening the advertising agency. He was President of the Nebraska Broadcasters Association, Tucson Broadcasters Association and the Advertising Agency Association of Tucson. In 1985 he received the American Advertising Federation Silver Medal Award.
Gloria graduated from Sawyer Business College and as she raised seven of her own children found the time and energy to take in twenty-six foster children, most of whom were newborns awaiting adoption. From the beginning she served as office manager and bookkeeper for the advertising agency.
Gloria passed away in 2015 followed by Gene in 2020. Both Gloria and Gene left a legacy of caring and honesty and were highly respected by their clients, media and advertising peers. With the company motto of "Simplicity, Clarity and Quality," the couple helped hundreds of organizations "grow their business."