Books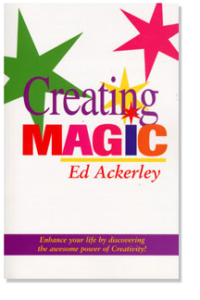 CreatingMAGIC, writen by Ed Ackerley, is intended to help readers enhance their lives through Creativity!
The companion book to his poplular creative seminar is a simple selection of stories revealing profound truths about creativity.
Using real life examples from life and business, the book is a quick read for all ages, and can give anyone who reads it a new perspective on creativity and how it affects personal change, interpersonal relationships, business and success
Ed Ackerley is a principal at Ackerley Advertising and an adjunct professor at the University of Arizona, Northern Arizona University and Pima Community College.
The 120 page paperback book sells for $15.95 and is available at Barnes & Noble or www.nedderpublishing.com
ISBM 1-893757-42-2 Order #24-2
CreatingMagic
---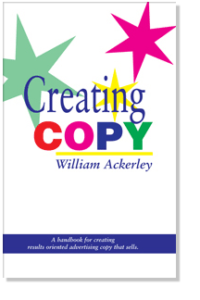 CreatingCOPY, written by William Ackerley, is a handbook for creating advertising copy that sells.
With over thirty years experience as a copywriter, William "has conveniently gathered the best wisdom about writing advertising copy and arranged it in a logical progression that educates as it entertains."*
If you have ever struggled to write an advertisement, a flyer, a brochure, or even a letter, a poem, a story or a book, do not be discouraged. Writing, like any other skill, will always be improved with practice, especially when you take the time to study the successful and make an effort to emulate them.
CreatingCOPY contains a wealth of practical information to help you write advertising copy that sells even within the smallest of budgets.
"If you're interested in improving the bottom line, then you've hit the Mother Lode with William Ackerley's book Creating Copy."**
William Ackerley is the production manager at Ackerley Advertising.
The 120 page paperback book sells for $15.00.
To order CreatingCOPY click on the button below or contact Ackerley Advertising in Tucson.
*Robert Grede, The Grede Company
**G.J. Sagi